Veeam's Best Storage Companion
Highly Performant, Unified, Multi-tier, Backup and Recovery of your Business Critical Assets
Built for Service Providers,
Zadara is Veeam Ready for Object, Block & File Storage
VCSPs earn more with the Zadara and Veeam scalable backup solution.
Scale-up and scale-out capabilities minimize downtime and protect critical data.
Zadara and Veeam v12 Offer
Direct-to-Object Support for backups with immutability.
Multiple Scale Out Backup Repositories (SOBR) with immutable Object-Lock support.
Dedicated and isolated Object Storage for certain workloads or customers.
Data Immutability & Air Gap Protection for Business-Critical Data
Combine Veeam and Zadara to drive application and data availability in a flexible, 100%-OpEx backup-as-a-service model — including data immutability — on premises, at your data center, and in the public cloud.
Zadara provides Veeam users the ability to create a scalable, cost-effective backup repository comprised of multiple tiers of storage, to optimize for performance or capacity.
Popular Backup & Recovery Use Cases
Avoid Ransomware Downtime.
Protect Your Office365 Data.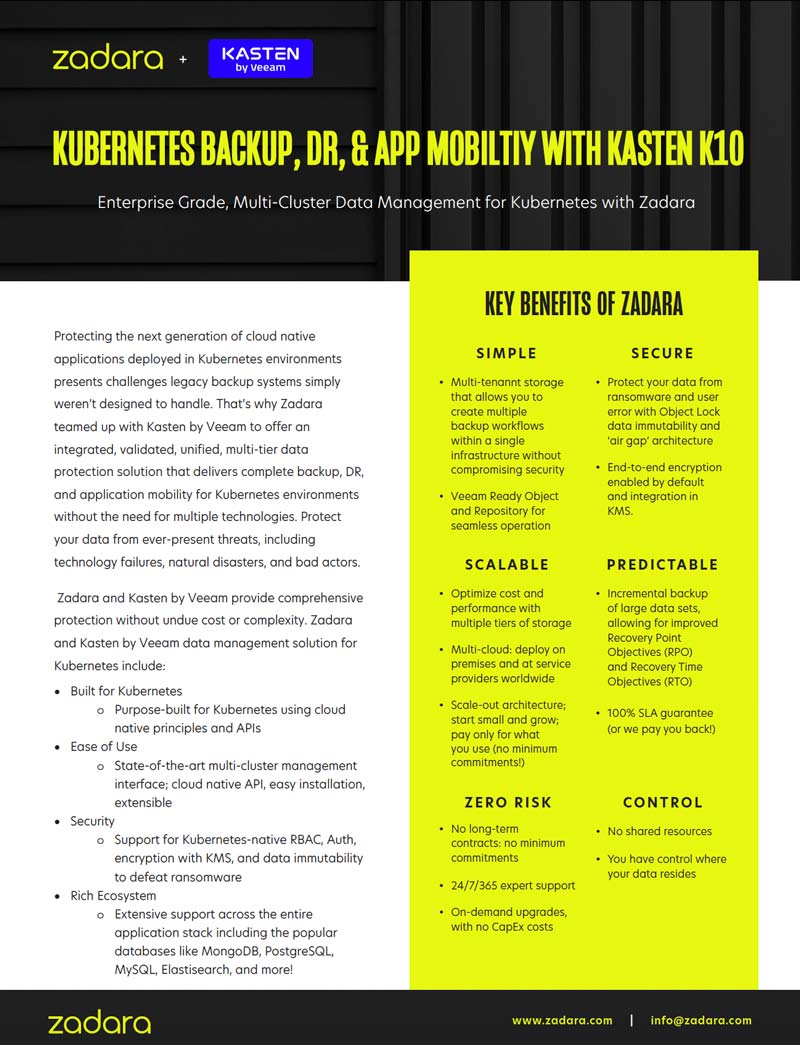 Kubernetes Backup with Kasten by Veeam
Enterprise Grade, Multi-Cluster Data Management for Kubernetes with Kasten K10
Get Zadara storage-as-a-service on premises, at your colocation facility, and in the public cloud.