Enterprise Edge Cloud Services Provider
Since 2011, Zadara's Edge Cloud Platform (ZCP) simplifies operational complexity through automated, end-to-end provisioning of compute, storage and network resources. Backed by an industry-best NPS rating of 71, Zadara Edge Cloud users are supported by a team of battle-tested cloud experts and a best-in-class 100% SLA guarantee. With cloud services available wherever your apps live – on-premises, in the cloud, or in a preferred colo., Zadara's business solutions help companies gain agility without sacrificing the features and functionality that enterprise IT teams demand. Zadara operates 400+ globally distributed edge clouds supported by a world-class team of IT experts providing follow-the-sun services and support. Zadara's head quarters are in Irvine, California, with locations in London (UK), Tokyo (Japan), Tel Aviv (Israel), Yokneam (Israel) and Bangalore (India).
Who We Are
Zadara's vision is to build and operate the largest global Edge Cloud Network to enable innovative technologies & services that improve the way the world communicates, works, heals, travels and plays. We have a global and diverse workforce that is growing as we expand our customer base. Together as a team we are making an impact on the Edge Cloud market.
Our Zadarian Culture
All Zadarians are finding their edge by living and breathing our core values; All Belonging, Accountable together, Exceptionally focused, Flexible, Trail breaking, and Zealous.

We believe that good things happen to people and business in a culture of choice. Where diverse and individual needs, wants and wishes are respected and rewarded — where the possibilities are limitless. Here you can, breakout and breakthrough to do your best work.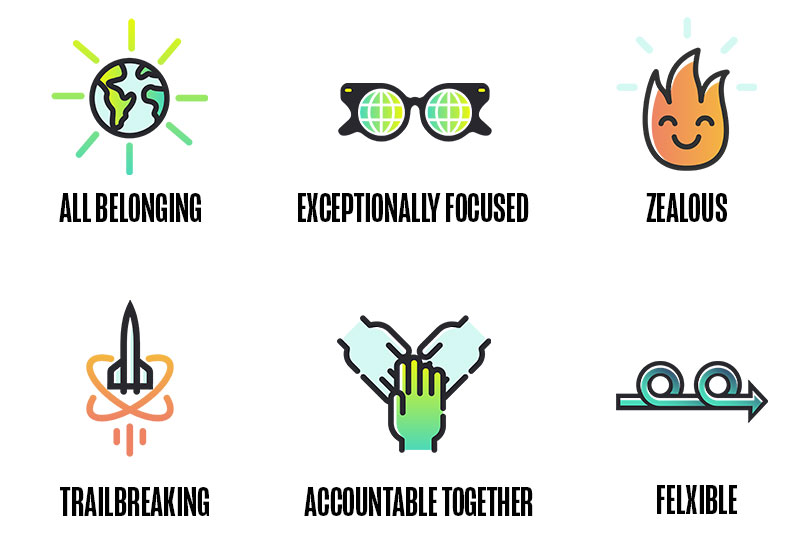 What Diversity, Equity & Inclusion
Mean to Us
We believe in the power of Diversity, Equity, and Inclusion (DEI). Members of our distributed team come from different geographies and cultural background and we serve a diverse population. Our commitment to DEI help us design better products and services, and serve our employees, customers, and partners. Our commitment to Diversity, Equity and Inclusion is critical to our vision and to our impact, and helps us boost our perspective, creativity, and growth.
Industry Awards and Accolades
Our solutions have been recognized for innovation and leadership. The accolades include: Frost & Sullivan New Product Innovation Leadership Award; Cloud Computing Backup & Disaster Recovery; the Red Herring Global 100; and Dell Founders 50 are among some.
Organizations are shifting their platforms to a Cloud Native format to address the rapidly evolving global technology marketplace demands. This is being driven by a need to offer a standardized and automated approach to their individual business application needs. However, with the multitude of different cloud offerings materializing, complexity inherently becomes a deployment and management […]
Make An Impact With Your Next Career Move.
Leading companies worldwide trust Zadara. Read their stories.
Find out why leading companies around the world, and in a variety of industries, trust Zadara for their enterprise data storage and management.