Sixty-seven percent of organizations say they rely solely on Office 365 to backup and recover for their critical O365 data, do you? Choosing the right storage solution for Office 365 backup is critical to ensuring comprehensive data protection of Office 365, Exchange, SharePoint, OneDrive for Business and Microsoft Teams data on premises and in the cloud. Yet, this important topic is commonly overlooked by busy IT pros. For this reason, it was the focus of analyst firm, Truth in IT's latest event: Truth in Data Protection webinar spotlight focusing on O365 data backup.
Zadara and Veeam® Backup for Microsoft Office 365 helps ensure O365 data is always protected — from accidental deletion, security threats, retention policy gaps, and more. Combining Veeam Backup and Recovery with Veeam Backup for Microsoft Office 365 and Zadara 100%-OpEx storage enables unified backup and rapid recovery of Office 365 data, with advanced data protection functionality, in a flexible operating model that scales with your needs.
Zadara + Veeam gives you the ability to store backup data in a variety of locations. The public clouds, with their breadth of storage options and pay-as-you-go model, might appear to be a convenient option. But there are significant trade- offs, including loss of control over your data and insane egress fees. Alternatively, you might choose to build your backup solution on top of legacy storage. But you will be faced with significant equipment costs and the complexity of managing multiple storage systems, volumes and Microsoft Office 365 Backup installations.
With Zadara zStorage you can provide true 3-2-1 off-site, off- cloud immutable data protection in a 100%-OpEx solution— giving you the flexibility to scale up, down, and out as needed, while paying only for the resources you use.
Zadara allows you to deliver a backup storage solution that fulfills on the potential of Veeam's powerful backup and recovery software, with features such as:
A single backup & recovery system for Office 365, Exchange, OneDrive, SharePoint, OneDrive for Business and Microsoft Teams data

Consolidate data backups from cloud and on-premises systems

Adhere to stringent data retention requirements, and government regulations

Set granular and point-in-time recovery options

Erasure code protection for up to 14 9s of data durability

No public-cloud egress charges
Because Office 365 email and SharePoint data often reside in multiple locations, you need a backup solution that can cover both Office 365 and any on-premises Exchange and SharePoint instances. Using Zadara + Veeam you can protect hybrid email and SharePoint deployments, and migrate mailbox data between on-premises Exchange and Office 365. Implement a 100%- OpEx on-premises backup solution, and use Veeam Backup and Recovery with Veeam® Cloud Connect to back up and replicate to a service provider's cloud repository.
Support for Veeam Object Storage Immutability
Users of Veeam Availability Suite can take advantage of Zadara's full support for immutable object data. Immutable data options enable enterprises and service providers to meet increasingly stringent data governance and compliance requirements and to enhance their data protection practices against emerging risks, such as ransomware.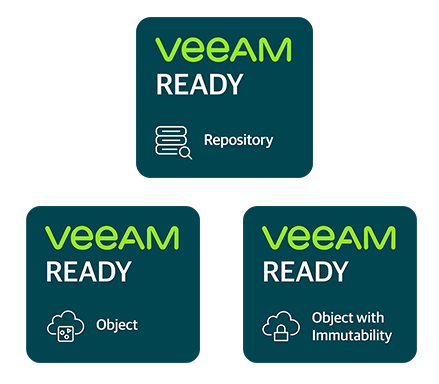 Transform your business with zero-risk enterprise storage.
Zadara transforms storage-related costs from a variable mix of equipment and management expenses to a predictable, on-demand, pay-per-use, elastic service that greatly simplifies planning, streamlines budgeting, and improves return on investment (ROI). Find out how zero-risk enterprise storage can help you transform your business. Call or email today.
Find out how leading Veeam partner, virtualDCS, achieved both by partnering with Zadara.